To borrow a popular local phrase, a new coffee jawn has opened in greater Philadelphia. It's the first cafe by Royal Mile Coffee Roasters, which welcomes customers inside for freshly brewed coffee drinks or retail bags of blends including Love Jawn, Gritty Jawn, 7th Inning Jawn and more.
In crafting the Royal Mile experience for customers inside the roughly 760-square-foot space in Oaklyn, New Jersey, owner Jamie Blanchard shot for character and congeniality as opposed to something overly chichi and off-putting to the local crowd.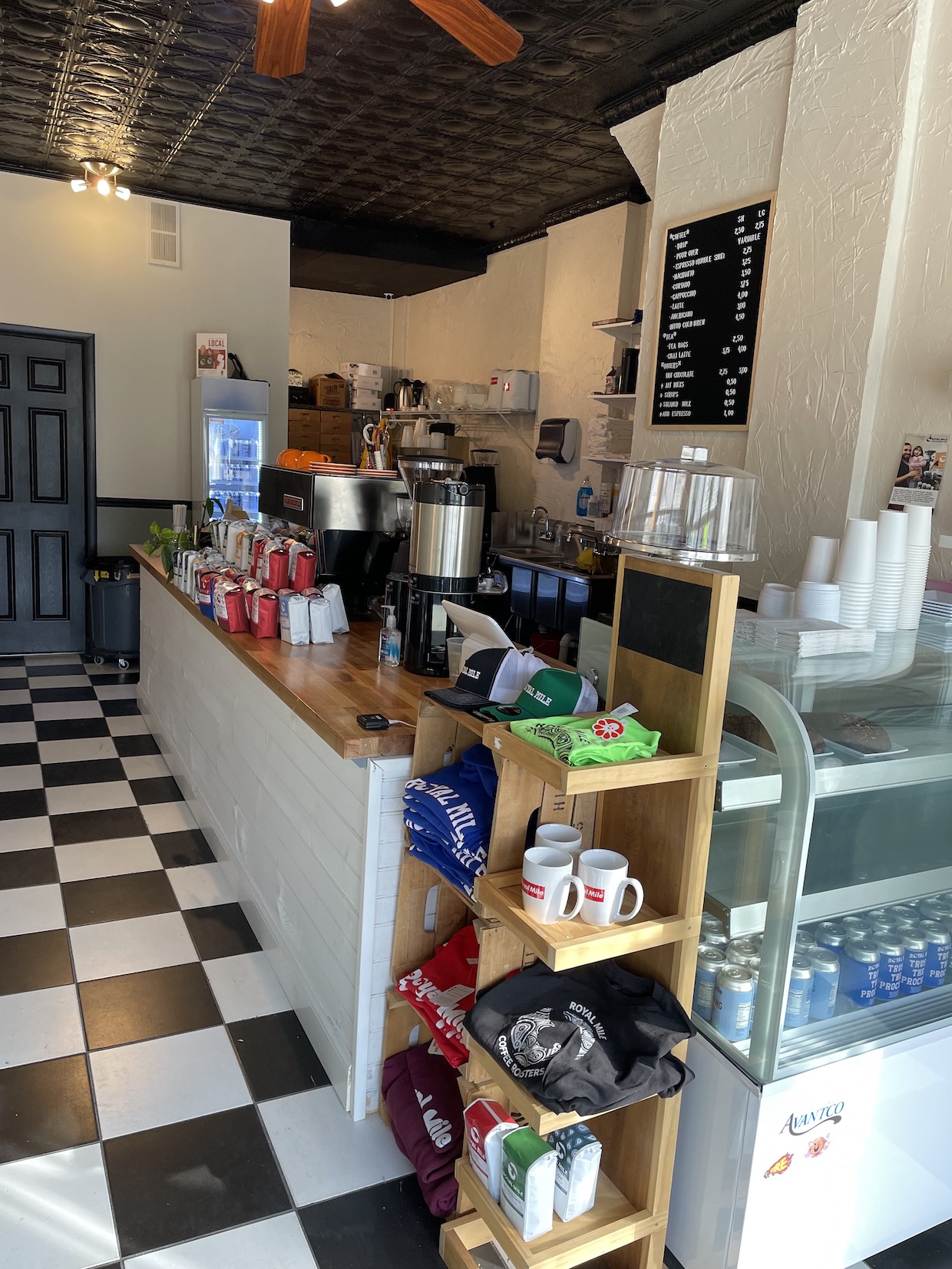 "We've got pictures up of the farms, the floor is a bit crooked in spots, and I didn't quite connect the bar right — missed some spots with paint. But that's the charm," said Blanchard. "My only big caveat was I needed paisley somewhere, and there was a wall by the door that I could make it work. I like the 'doctor's office' look, but that's not me. I think in the end if the customers knew it was something I wasn't totally behind, it wouldn't work."
Now in his ninth year of operating Royal Mile, which took home national Good Food Awards in 2018 and 2019, Blanchard roasts coffees in an industrial facility in nearby Cherry Hill, where capacity will soon be upgraded with the arrival of a new Giesen W15 roaster. Green coffees arrive primarily by way of Nicaraguan importer Fincas Mierisch.
Blanchard is friends with Steve Mierisch, who who also happens to be the owner and founder of the Pulley Collective shared roasting facility in Brooklyn, New York. Blanchard says he's pleased that the coffees he purchases through the Mierisch network might help other smaller roasters at Pulley access fresh coffees that might not otherwise be available.
Said Blanchard, "It's a nice thing for roasters who do roast on his equipment in New York to have his green available to them."
---
Related Reading
---
Coffees making their way to the Oaklyn shop are ground in Mazzer grinders and extracted on a La Marzocco espresso machine for drinks that Blanchard hopes will either be familiar and satisfying or potentially enlightening, depending on the preferences of the customer.
Blanchard said that practices such as sourcing current-crop coffees and penning original tasting notes make the company something of an outlier compared to most other local coffee purveyors.
"I don't have to do much to be different, which is forever disappointing," said Blanchard. "My main thing is that I try to meet people where they're at, not tell them how it is. Standing over 8,000 hours at a demo table in Whole Foods stores and hearing every permutation of how people wanted coffee… had a profound effect on me. My only goal is to make sure we provide you with the coffee you're hoping to get when you walk in the door."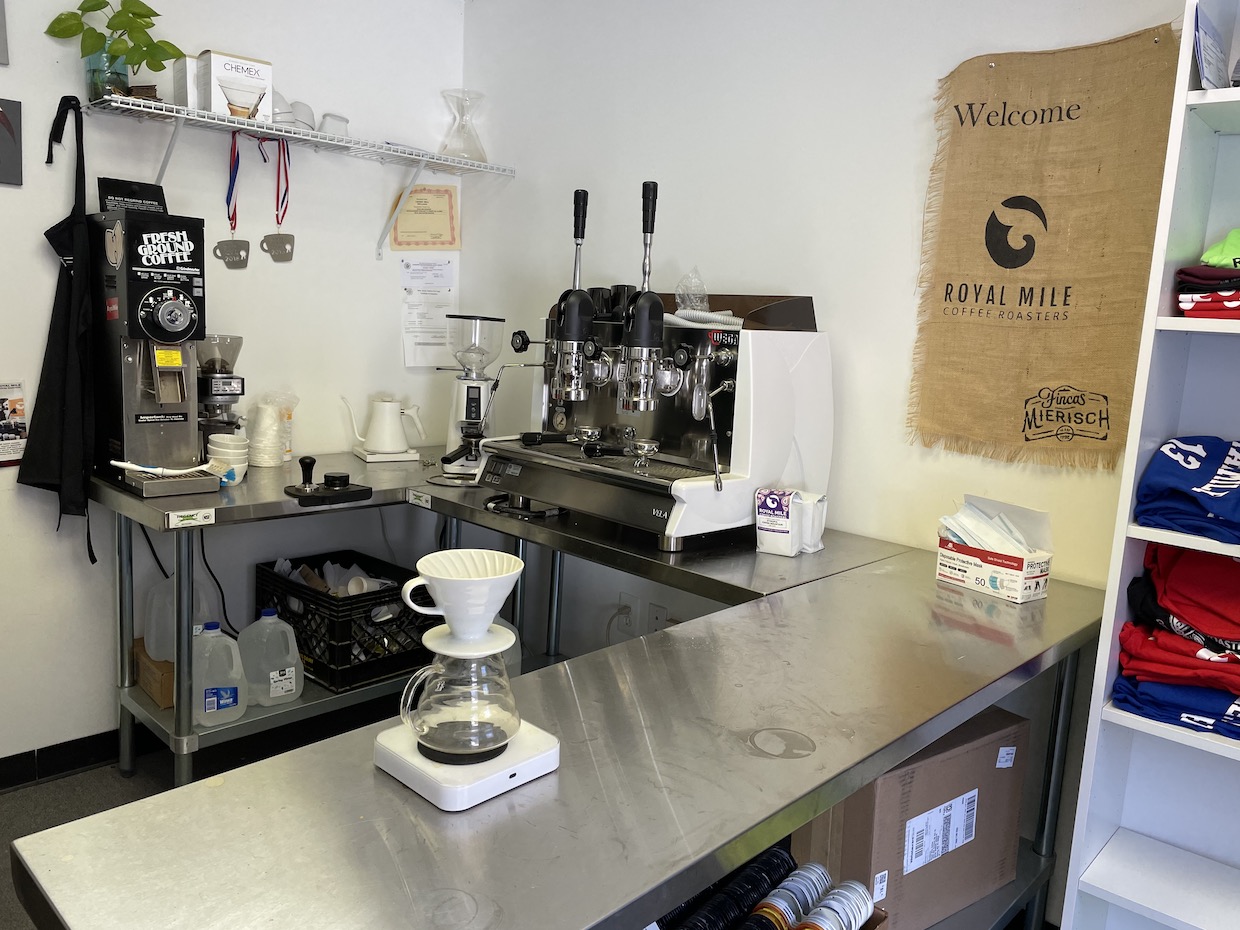 With the cafe now open, the miles ahead will see continued growth via expanded presence in grocery stores and additional cafes. Wholesale roasting is not en route for Royal Mile according to Blanchard, who prefers retail and direct-to-consumer connections.
"I'm fortunate to have the business setup in the way I have, that allows me to be this stubborn," said Blanchard. "I've never heard of anyone going as far as I have with this approach, so I know how this isn't the normal way."
---
Royal Mile Coffee Roasters is located at 905 White Horse Pike in Oaklyn. Tell DCN's editors about your new coffee shop or roastery here. 
Howard Bryman
Howard Bryman is the associate editor of Daily Coffee News by Roast Magazine. He is based in Portland, Oregon.